The type
Firstly, picnics come in a variety of forms according to the occasion. There's the traditional; the ones with the blue or red chequered tablecloth, a cute basket to hold the goods and homemade lemonade. There's the childhood; a chance to enjoy Mum or Dad's delicious food, eaten with our hands, and out in the fresh air. Then there's the romantic style, watching the sunset with a bottle of wine, candles lit and conversation flowing.
The location
Secondly, think about where you can enjoy your picnic, because that's another conversation in itself. Enjoy it on a park bench with a sandwich from the deli; it can happen on a canal boat, with a hot coffee and pastry; simply sit in the shade of  a mossy tree, take off your shoes and enjoy the company of loved ones with a slice of cake from the local bakery; or on the roof of a sky rise in the city, with just enough room for you and a friend, a napkin, and a homemade sandwich.
The checklist
It's not just the many occasions you can accompany a picnic with, or the choice of location that makes it so great, it's the many elements that a picnic involves. Here is a checklist on what to include in your next picnic to ensure it's as fantastic as can be:
Food
A picnic is only as good as the food. Choose food that's packable, fresh and doesn't require a lot of utensils. Choose a menu that ranges from savoury to sweet to satisfy the picnic crew. Try and go fresh and local where possible too. 
Appetisers such as chips and dips, salads and sandwiches are all great picnic components; they're easy to pack and prep ahead. Picnic drinks such as water (essential), lemonade or juice are great for kids, but for those adult-only picnics, a bottle of wine or a crisp cider or beer is a critical element in a picnic. Furthermore, don't forget the dessert! Fresh local fruit is the best in our opinion, but you can always step up the game with homemade desserts such as summer trifle in mason jars or bakes such as scones and flapjacks.
Picnic basket
Whilst the traditional picnic basket looks the part, you can always improvise if you don't have one with a tote or backpack. A cooler is also advisable, especially on hotter days.
Blanket
No picnic is complete without a large, soft blanket to sit on while enjoying your outdoor feast!
Utensils, napkins, plates, glasses
One word, essential. Try using reusable when possible, for example, bamboo bowls or plates and reusable straws.
Bottle opener
For those who plan on taking something a little stronger than lemonade.
Separate bag
One that is often forgotten but is needed to pack away rubbish and avoid leaving anything behind.
Atmosphere
Flowers, candles and a good playlist are perfect additions to the picnic checklist if and when appropriate.
Furry friend
Your dog will enjoy the picnic adventure as much as you do, so bring them along!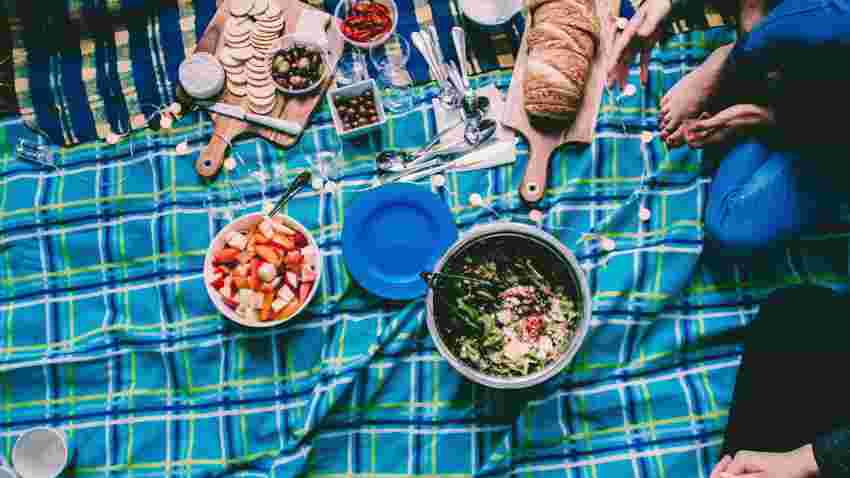 The benefits
Time for communication, reflection and creativity
Picnics are the perfect opportunity to catch up with family and friends without that electronic distraction. Or, you can simply relax in your own company and take the time to absorb the day. They are definitely good for the soul. Picnics don't have to be costly either; you can get creative with cupboard staples such as tahini in homemade hummus or nut butters for desserts.
The great outdoors
The health benefits of relaxing in nature are no real secret. Taking a break from your desk at lunchtime gives you brain a chance to recuperate.
Stress relief
Vitamin D from the sun = mood boost. Even in these difficult times, you can still enjoy a picnic from the comfort of your own garden or balcony. Getting away from the pressures of daily life for one afternoon can boost your happiness levels and relieve some of the stress hormones.
Picnics have been featured in many films, including 'The Sound of Music', Disney's 'Up' and Grace Kelly and Cary Grant's classic picnic scene in 'To Catch a Thief'. This proves how great they really are. Furthermore, as proved by this piece, they are definitely one of the most underrated styles of dining for the summertime. It's a casual family occasion, it's a first date, it's a stop on a scenic hike, it's a night-time outdoor movie accompaniment…a portable feast that suits many occasions - try and name something better!
"The things that make me happiest in the whole world are going to the occasional picnic, either with my children or my partner; big family gatherings; and being able to go to the grocery store – if I can get those things in, I'm doing good."
Get in touch
Whether you fancy canapes or a banqueting, our team love to talk ideas. Get in touch today.