Creating an award-worthy dining experience
A staple feature of the British event calendar, the 2022 BRIT Awards hosted some of the most talented faces from around the world, including the likes of Adele, Ed Sheeran, and Maya Jama amongst the star-studded guest list.
With over 4,000 VIP guests to satisfy, it was Payne & Gunter's objective to ensure that a sumptuous dining experience was had by all and to deliver the highest quality food for a truly memorable evening.
Serving fresh, British, and fantastically prepared food with plenty of options to suit a range of dietary requirements, we created an immersive experience for every guest of the highly anticipated awards ceremony, leaving them energised and able to enjoy the event to the fullest.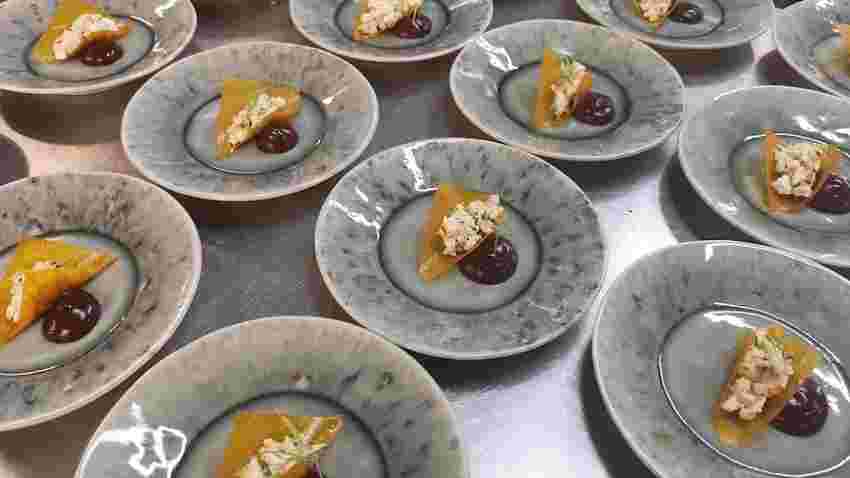 Bringing a personal touch to large-scale & high-capacity events
Having provided world-class catering for the BRIT Awards since 2005, our culinary and catering experts are well-versed in operating under the extreme time constraints of the ceremony and other grand, large-scale events. However, with 4000 guests to serve in just two hours, our passionate project managers, Bethan James and Lucy Fulford, had a lot on their plates.
Regardless of the intense schedule to follow and some very important faces to impress, Lucy earned the description 'angelically calm' after overseeing all operations and only settling after every guest had departed.
With the help of 60 chefs, 600 servers, and 40 management team members, we were able to deliver a seamless catering service that impressed everyone lucky enough to indulge. In addition to our culinary teams, three temporary kitchens had to be constructed to help cater for a dining event of this scale, unique even for a venue like the O2.
Championing sustainability at every stage
Using our extensive knowledge of menu design, we created a seasonal menu that showcased the best of British ingredients. We know how essential it is to contribute towards a carbon-neutral future, and with food waste being cited as the third largest cause of global warming, we made sure to use each element of every ingredient.
From turning carrot peelings into a tasty jus to frying cauliflower leaves to create a delicious garnish, no ingredients were left to waste.
Luxury catering services from Payne & Gunter
At Payne & Gunter, we know the power that food holds when bringing an event to life. With unique culinary concepts inspired by quintessential British cuisine, we promise a five-star experience with bespoke menus for every event and occasion.
To find out more about our award dinner catering for large-scale events, contact us on 0845 128 7395 or info@payneandgunter.co.uk today.
Get in touch
Whether you fancy canapes or a banqueting, our team love to talk ideas. Get in touch today.