This year, we all deserve a fabulous Christmas party – including your employees! With stunning locations and luxurious food options to spoil from our Christmas party caterers, make this year's reception a sophisticated soirée that offers a much-needed break from deadlines, performance reviews and virtual meetings.  
To help you plan an enchanting Christmas party, we've put together three fun theme ideas that don't rely on turkey or tasteless jumpers.
PLANNING A CHRISTMAS PARTY WITH ALL THE TRIMMINGS
A masquerade ball
Bring a touch of mystery to your work Christmas party this year with a magnificent masquerade ball. A beautiful venue, live band and menu of festive cocktails will ensure your party is truly atmospheric and encourage your employees to dress to the occasion.  
Allow your attendees to keep their masks firmly intact throughout the event with a selection of sumptuous canapés and grab foods, with dishes such as caviar blinis and mini mince pies offering a much lighter alternative to a heavy Christmas dinner.
Winter wonderland
Inject a little extra sparkle into your party with an elegant winter wonderland reception. Get into the festive spirit with stylish silver decorations, stunning table settings and seasonal treats, with everything from quintessentially British festive foods to glasses of delicately spiced mulled wine for an evening to remember.  
Your Christmas party is the perfect occasion for colleagues to catch up, so give them plenty of opportunities with a delectable three-course meal and carefully considered seating arrangements. You'll find our top table planning tips here. 
Cocktails and canapés
Cocktails and canapés pair together like Christmas trees and tinsel! What better way to treat your employees to some festive fun than by hosting a tasteful soirée with a selection of indulgent mini bites and expertly shaken cocktails?  
To truly wow your guests, let your party catering be a part of the action with exciting food theatre. Our food stations will create an electric atmosphere and offer the perfect setting for colleagues to mingle with a mistletoe mojito and mini yule log in hand.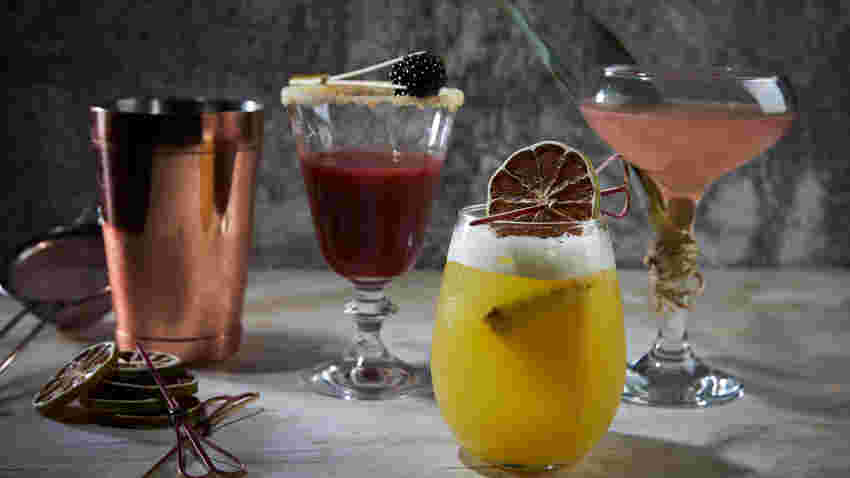 LONDON'S FAVOURITE CHRISTMAS PARTY CATERERS
At Payne & Gunter, we recognise the importance of planning a charming festive celebration. As London's favourite Christmas party caterers, we're well-positioned to bring your visions to life with bespoke menus, creative food concepts and tailored table settings that reflect the theme and tone of your event.
To find out how our Christmas party catering solutions could make your ideas a reality, contact us on 0845 128 7395 or info@payneandgunter.co.uk.  
Get in touch
Whether you fancy canapes or a banqueting, our team love to talk ideas. Get in touch today.