At Payne & Gunter, we've proudly catered to a myriad of extraordinary marquee events, from the Royal Windsor Horse Show to the Wimbledon Championships. Our innovative catering concepts inspired by the core values of British cuisine mean we're able to create the same sense of luxury in outdoor marquee events as we do in grand indoor settings. 
Creating atmosphere for every attendee
To create ambience at your outdoor event, it's important to design your marquee's interior in a way that entertains your guests and cultivates conversation. 
This begins with creating the perfect table plan with beautiful arrangements to match, and continues with offering delicious refreshments and nibbles that encourage your guests to mingle.
Serving delectable canapés and grab food before and after your main meal will allow your attendees to move around, stepping out for a moment in the sun or enjoying the shade with their refreshments in hand.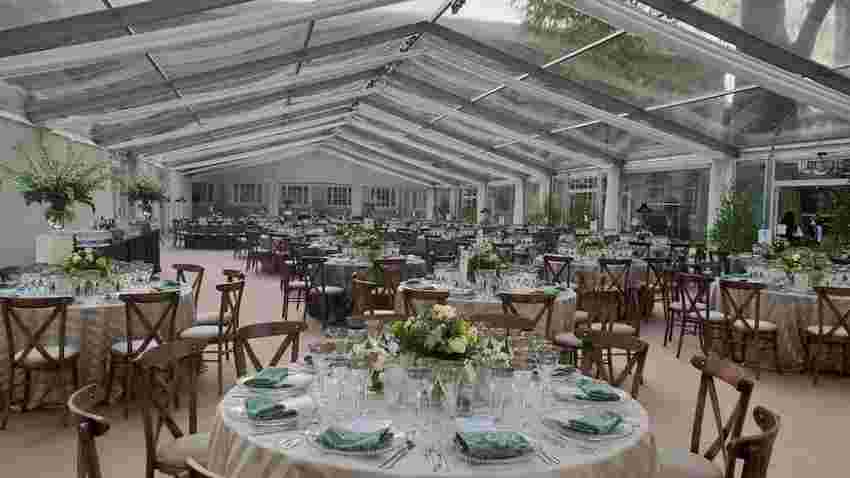 Making memories with every mouthful
Delectable food and drinks are the cornerstone of every great event, indoors or outdoors. Whether you're planning an intimate wedding or fun-filled festival, your marquee catering choices will help to create atmosphere and joie de vivre.
From serving conversation-sparking sit-down dinners to flutes of toast-worthy champagne for those all-important wedding speeches, we at Payne & Gunter know how to create moments that last through exceptional food experiences.
Bespoke marquee catering for occasions that count
Planning an unmissable outdoor event? Let our specialist marquee caterers bring an extra-special touch to your celebration.
Contact us on 0845 128 7395 or info@payneandgunter.co.uk to discuss your marquee catering needs.
Get in touch
Whether you fancy canapes or a banqueting, our team love to talk ideas. Get in touch today.