Offer a warm welcome with world-class refreshments
To set the tone of your event, we recommend offering your employees a welcome drink and selection of delicious refreshments. This will also help them relax into your reception or meeting from the moment they arrive.
As guests naturally gravitate towards food and drink displays, laying out canapés and cocktails, alongside non-alcoholic alternatives, will also encourage your employees to engage their colleagues in conversation.
Bring employees together through food theatre
Corporate events offer a fantastic opportunity for employees to truly connect with their colleagues – especially for businesses emerging from a hybrid working model.
To keep the conversation flowing during your event, why not ask servers to move around the room with a selection of sumptuous grab food and drink top-ups? This will allow your employees to focus on mingling instead of queuing at the bar.
Remember – corporate event catering needn't be dull or uninspired. In fact, we believe wholeheartedly in the power of food theatre for adding wow factor to business events. Our food stations bring a buzz to events of all sizes and are sure to give your employees something to talk about!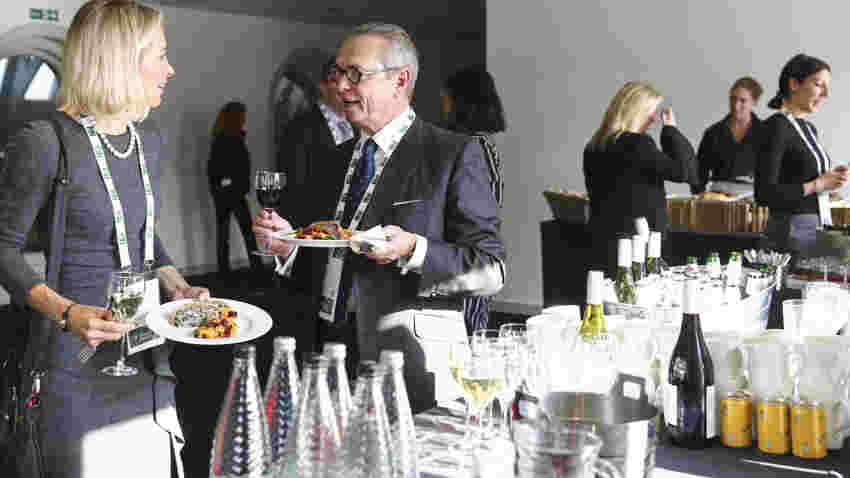 Let the conversation flow at dinner
Depending on the needs of your corporate event, hosting a sit-down dinner may be the perfect way to end the evening and a great excuse for your employees to come together.
Making sure every guest enjoys a delicious meal is key to ensuring they feel part of the team, which is why our culinary professionals always go above and beyond to cater to every dietary requirement.
Top tip: If you work within a large team, create seating plans that encourage colleagues from different departments to get to know each other.
Corporate event catering that inspires connection
For corporate catering solutions that bring people together, choose Payne & Gunter, London's original event caterers. We're proud to bring unique, British-inspired culinary concepts to life for business functions of all sizes, with bespoke menus to meet every event objective.
To discover how our corporate caterers could elevate your event, contact us on 0845 128 7395 or info@payneandgunter.co.uk.
Get in touch
Whether you fancy canapes or a banqueting, our team love to talk ideas. Get in touch today.