Where food and music become art
The BRIT Awards is a landmark British event that celebrates the best in music – from Calvin Harris to Pink, Little Mix to The 1975. With such an elective group of A-list guests to impress, and host Jack Whitehall televising interviews at their dining tables, the BRIT Awards catering needed to be gold standard.  
As the 14th consecutive year of Payne & Gunter being the BRIT Awards' chosen caterers, our culinarians knew exactly how to create a deliciously premium dining experience at its 2019 ceremony.
Crafting food experiences for the stars
With the BRIT Awards welcoming 3,400 guests to The O2, the event needed a catering partner that could promise quality. Our teams sprang into action to deliver first-class dining experiences at speed and scale, making sure that every drink poured and dish plated came served with a smile. 
Rallying 350 of our wonderful waiters, we delivered tip-top table service to ensure that no guest was left wanting. All in all, we served 3,894 bottles of beer and 978 bottles of fizz – making sure that our beverages were as bubbly as the atmosphere.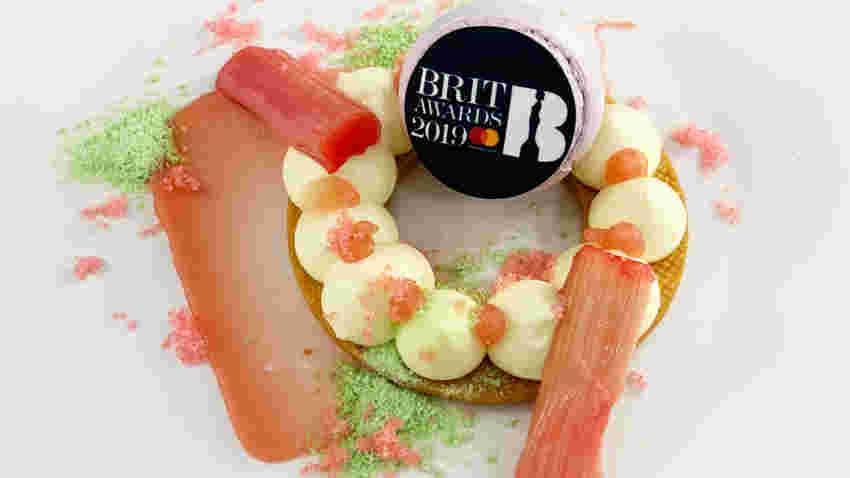 Dishes and flavours inspired by greatness
We designed a menu that was as mindful of the environment as it was of our guests, with 50 talented chefs bringing each dish to life with seasonal British produce. 
The evening started with Confit Lancashire Leek, smoked aubergine tartare, date ketchup and caramelised figs, a vegan dish that caught everyone's attention.
Following on was a choice of Ghanaian-influenced mains, each prepared to reflect the heritage of Sir David Adjaye, the BRIT Awards trophy designer for 2019. Our star guests could choose between free-range poached buttermilk chicken breast or Ghanaian-spiced cauliflower steak to be enjoyed with dumplings, British quinoa porridge, and carrot, cabbage, and onion slaw.
To finish, we drew inspiration from the night's trophy design to prepare our very own version of rhubarb and custard, a British classic. Imagine Yorkshire rhubarb, custard tart, mint soil, blackcurrant meringue, and rhubarb bubbles forming a dish as flavoursome as it was beautiful.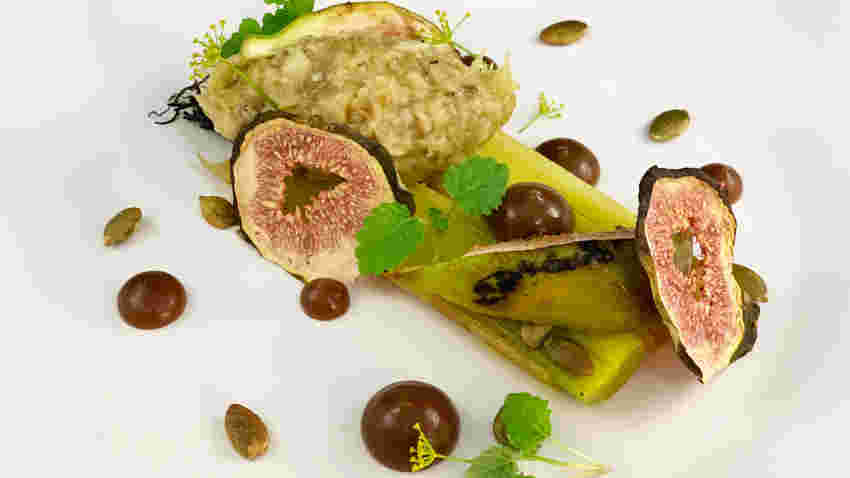 Making sustainability even more sensational
Using every element of an ingredient is vitally important to the Payne & Gunter team, with food waste being cited as the third-largest cause of global warming. With creativity at our core, we transformed carrot peelings into jus, cauliflower leaves into a garnish, and free-range chicken into moreish crumbs, shavings, and dumplings.
Our creative approach to procurement meant that we were also able to reduce our food miles, with organic British quinoa sourced from Suffolk-based Hodmedod's and sustainably grown herbs from Clapham's Growing Underground. Responsible menu architecture can bring incredibly tasty results, but our considerate approach extended beyond this. For instance, our lead chefs wore recycled jackets produced from 22 plastic bottles. 
Reusable souvenir Stack Cups were also used throughout The O2 to reduce waste, giving guests a 100% recyclable alternative to plastic carriers. Any leftover Stack Cups were then donated to charities of the BRIT Awards' choosing.
Our night in the spotlight
Crafting and delivering a menu that hits all the right notes for the BRIT Awards is a highlight of our calendar, just as the ceremony is a staple event in the global music scene.
"It's always a pleasure working with Payne & Gunter as they not only take great care to meet our often complex brief, providing a delicious and balanced menu for our broad range of guests, but they support the teamwork that's an essential ingredient of the BRITs success each year."
Maggie Crowe OBE
Director of Events & Charities
The Payne & Gunter touch
We've been bringing large events to life through food and hospitality since 1786. Take a look at the rest of our tales and testimonials to learn more about the events and venues we've catered for. 
Get in touch
As seasoned caterers and experienced event managers, we're always ready to serve up ideas to elevate your next event.
Get in touch to talk about how on 0845 128 7395 or email info@payneandgunter.co.uk.